Wairau Bar
From Archaeopedia
Wairau Bar
Wairau Bar was first investigated by Jim Eyles and later jointly between Jim and Roger Duff.
Duff's Moa Hunter Period of Maori Culture while reviewing evidence on a national scale is in large part a report on the investigations there. It is a classic New Zealand archaeological publication.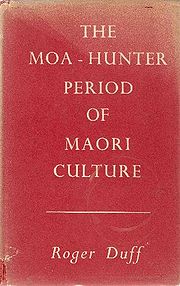 Duff's book appeared in three editions 1950, 1956 and 1977 with progressive additions and amendments.

<googlemap lat="-41.500221" lon="174.069614" zoom="14">-41.507485, 174.062061, Wairau Bar</googlemap>
Duff and Owen Wilkes undertook further work there in the 1960s. Latterly the removal of the burials to the Canterbury Museum became an issue with the original approval for this being questioned. A project by NZHPT, Canterbury Museum and Otago University investigated the bone material and in 2009 investigated the site preparatory to the re-interment of the koiwi.
Wikipedia has a page on the site.
From NZHPT website
Wairau Bar is a site of great significance to Rangitane, and for understanding the history of New Zealand. It was probably one of the first places settled by people arriving from central Polynesia. The excavation here investigates the moa hunter site, and prepares for the repatriation of Rangitane tupuna (ancestors) to their original urupa (burial place). You can follow the archaeological excavation by visiting
See Wairau Bar Excavation Blog Site for recent information