Von Haast Julius
From Archaeopedia
Julius von Haast 1822 - 1886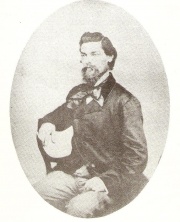 His broad contribution to science, exploration and museums is covered in his article in the Dictionary of New Zealand Biography.
DNZB
but his considerable early contribution to archaeology in New Zealand is noted only briefly there.
He was the first director of Canterbury Museum. Haast started collecting material for a museum while Provincial Geologist for Canterbury. The Provincial Government voted money for a museum in 1868 and it opened in 1870. Finds of moa bones in Canterbury swamps allowed the collections to be built up by exchange of these items.
His published biography is von Haast, H F, 1848: The life and times of Julius von Haast, explorer, geologist, museum builder. Wellington.
Aspects of his contribution to archaeology are covered in Green (1972) and Law (1972). His work was not without considerable controversy - mainly over his claim of autochthonous moa hunters. There was also an ethical controversy - See Yaldwyn et al. 2006.
References
Anon. n.d. Julius Von Haast, founder of the Caterbury Museum. Canterbury Museum brochure, 7pp.
Green, R. 1972 Moa-hunters, agriculture and changing analogies in New Zealand prehistory. New Zealand Archaeological Association Newsletter 15(1):16-39.
Law, G. 1972 Sources of 'moas and moahunters'. New Zealand Archaeological Association Newsletter 15(1):4-15.
Yaldwyn, J., E. Dawson and J. Davidson 2006 The first ethical controversy in New Zealand Archaeology: Joseph Hooker's confidential ruling in the Haast v. McKay case. Archaeology in New Zealand 49(4):282-292