Skinner H D
From Archaeopedia
Henry (Harry) Devenish Skinner 1886-1978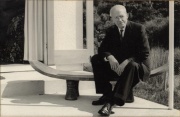 Skinner was trained as an anthropologist in Britain, lectured in anthropology at Otago University and was for a long period the Director of the
Otago Museum
. Notable students of his undergraduate course included
Roger Duff
,
Ron Scarlett
,
Ham Parker
and
Jim Eyles
.
Skinner's main interest was material culture and he published many papers on aspects of this. He undertook fieldwork in the Chatham Islands. A collector from his youth he encouraged amateurs, where their finds were likely to find their way to the Museum. In his time many remarkable private collections were aquired by the Museum. Skinner particularly encouraged Teviotdale in his Otago excavations, but he had only a minor personal role in the excavations of the day. Leach (1972) gives a history of Otago archaeology including the Skinner era.
Skinner was the first president of the New Zealand Archaeological Association, and joint editor of the Journal of the Polynesian Society, 1932-33. It was a major outlet of his published work.
Peter Gathercole's introductory chapter in H.D.Skinner (1974), Comparitively speaking, Editors Peter Gathercole, Foss Leach and Helen Leach, University of Otago Press, is a longer appreciation. Many of Skinner's papers are reprinted in that volume.
Obituaries:
Peter Gathercole 1978 Journal of the Polynesian Society 87:109-110.
Henry Devenish Skinner: 1886-1978 PETER W. GATHERCOLE Asian Perspectives Vol. 22, No. 1,
See Atholl Anderson's article on Skinner in the Dictionary of New Zealand Biography. DNZB
Festschrift: 1959 Anthropology in the South Seas Eds. J D Freeman and W R Geddes, Thomas Avery and Sons, New Plymouth. Freeman gives a memoir on Skinner as an introduction to the volume.
Blake-Palmer, Geoffrey 1958 Henry Devenish Skinner — An Appreciation, Journal of the Polynesian Society 67:97-103. - An appreciation written on the occasion of Skinner's retirement.
Roger Fyfe, 1989, An anthropologist at war, in Saying so doesn't make it so, Papers in honour of B Foss Leach, Edited D G Sutton, New Zealand Archaeological Association Monograph No. 17, - gives an account of his war service at Gallipoli.
The Royal Society operates a Skinner Fund which operates "to promote the study of the history, art, culture, physical and social anthropology of the Maori and other Polynesian peoples, particularly through the recording, survey, excavation and scientific study of prehistoric and historic sites in New Zealand and the islands of the South-west Pacific." Link
Reference: Leach, H M 1972 A Hundred Years of Otago Archaeology: A Critical Review. Records of the Otago Museum Anthropology Number 6.