Shot Tower - Visit
From Archaeopedia
Mt Eden Shot Tower
SITE TO VISIT
Mt Eden Shot Tower
'
Ethnicity:
Site type:
Industrial site
Where:
Central Isthmus - 10 minutes from the city centre
How to get there:
Bus (Check Rideline) or taxi.
How Long to allow:
10 minutes
Disclaimer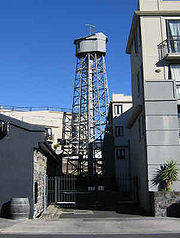 Location:
Normanby Rd, Mt Eden, City. The Colonial Ammunition Company building is preserved on the street front. The tower is behind it partly obscured by modern apartments.

What:
Shot tower used to form shotgun pellets by letting molten lead fall through air.

What else to do there:
Mt Eden is a short step away. Drive past the forbidding Victorian Mt Eden Prison and the Spanish Mission style Auckland Grammar School.

Web info:
http://www.historic.org.nz/TheRegister/RegisterSearch/RegisterResults.aspx?RID=87
http://www.ipenz.org.nz/heritage/itemdetail.cfm?itemid=2228
http://www.aucklandcity.govt.nz/whatson/places/walkways/mteden/industrial.asp