Schoon Theo
From Archaeopedia
Theodorus Johannes Schoon 1915 - 1985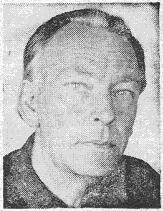 Theo Schoon was born in the Dutch East Indies, recieved art training in Holland and migrated to New Zealand in 1939. He lived much of his life here after that.
In 1946 he commenced fieldwork in the South Island recording Maori rock drawings and continued periodicaly until 1950, latterly in the North Island. His recordings were initialy oil paintings on board but later included photographs. His work was sponsored by Canterbury Museum and the Department of Internal Affairs. Roger Duff took part in some of the fieldwork. The sponsorship covered little of the cost. Coney[1] ascribes the period of the South Island fieldwork as 1945-48. The fullest account of his work is that of Roberts.[2] There is one contemporary account by Schoon himself though written in part in the third person. [3] Another account based on an interview with Schoon is by Vaassen.[4]
Schoon stands accused of having retouched the drawings during this work. Fomison[5] reviews the evidence for this - which is clear. Schoon has described his methods as being restoration dot for dot and never adding any interpretation, and also made some self defence: 'I am being blamed for bad retouching work which was done long before I ever saw a cave drawing.'[6]
Some of the records he made are the only surviving records of features now gone, but the use of greasy crayon in retouching some of the pictures is hard to forgive.
Schoon's personal art was in painting, photography, carving of gourds [7][8] and carving of nephrite. His publication on the latter shows an interest in reproducing traditional Maori items but has few insights as to their art[9]. He is a relatively minor figure in New Zealand art, perhaps best known for his influence on others, including Len Castle[10], Dennis Knight Turner [11] Gordon Walters [12], Rex Fairburn who made fabric prints utilising Schoon's rock art records and Rita Angus [13], who painted a portrait of Schoon, and he of her.
Occasionally nephrite carvings by Schoon appear on art markets, some replicating Maori forms, e.g. Art and Object 2012 http://www.artandobject.co.nz/files/Auctions/108_264_large.jpg.
Schoon has an entry in the Dictionary of New Zealand Biography: http://www.teara.govt.nz/en/biographies/5s4/1
---
References