Private Collections
From Archaeopedia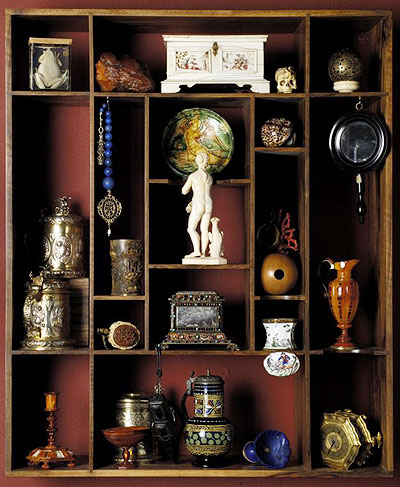 Private artefact collections are a feature of New Zealand archaeology right up until the present. Many of the artefacts were aquired by presentation or purchase and these are still ways of their accumulation today. In the past, when found Maori artefacts were personal property, fossicking was a way of accumulation.
Samson (2003) gives an insight into the motivations and behaviours of collectors who operated in Otago.
Many of these collections have found their way to museums, in whole or in part, after dispersal.
Some collections of European artefacts - particularly of bottles - have grown the same way. The advent of the protection of archaeological sites dating from before 1900 AD under the Historic Places Act has limited some sources, but many found European objects are still finding their way to private collections.
This page is to highlight some of the important collections which are part of our historic heritage.
---
Reference
Samson, J. O. 2003. Cultures of collecting: Maori curio collecting in Murihiku, 1865-1975 A dissertation submitted for the degree of Doctor of Philosophy at the University of Otago, Dunedin, New Zealand.
---
Listing here does not preclude a future page dedicated to a collection.
---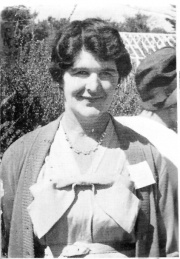 Bramley Collection - A collection from the south head of the Manukau Harbour collected by the Bramley family while resident at Wattle Bay. The collection's strengths are archaic material and fishing sinkers. The collection was bequeathed to Auckland Museum.

Brambley, Mavis 1966. Sea Cockies of the Manukau. Reed.

Prickett, N. 1987. The Bramley collection of Maori artefacts. Auckland Museum. Records of the Auckland Institute and Museum 24: 1 -66.
---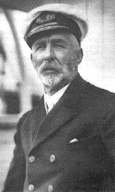 Bollons Collection - John Peter Bollons, 1862 - 1929, was on the crew and later the master of government steamers in the late 19th century and the early years of the 20th Century. The ships involved were Hinemoa and Tutanekai. While the ships were servicing lighthouses he used some spare time to make artefact collections. The collection is noteable for material from Portland Island and the far north. It is rich in fishhook material. His wife donated the collection to Te Papa.

A fictionalised account of his life is Captain John Niven, Bernard Fergusson, 1972, Collins, London. Fergusson knew Bollons as a boy and travelled with him on the government steamers with his Governor General father.
---
Butler Collection - Tauranga resident Fred Butler had a very sizable Maori collection and was by some thought to be of national significance, certainly of Taranaki significance. Fred was Taranaki born and breed, and was a collector all of his life. The collection was purchased by, and housed for a period in the Tauranga Historic Village but the ownership was disputed legally. He eventually packed up everything and re-located to Thames, where he died about 1982. His collection was sold to the Wagner Collection in Northland and dispersed around the country and overseas.
Info courtesy Dean Flavell
---
F R Chapman Collection - Sir Frederick Chapman (1849-1936) was a noted jurist and a collector. He was born in New Zealand but educated in Australia and Britain. On returning to New Zealand he resided in Dunedin and much of his collection was made personally from around there. He donated material during his life to the Otago Museum and his collection went there after his death. Chapman has an entry in the Dictionary of New Zealand Biography. Unusualy for a collector he authored a number of articles on aspects of Maori culture, published in the Journal of the Polynesian Society and the Transactions of the Royal Society of New Zealand.
---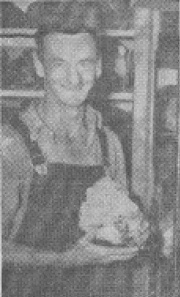 S E Chapman Collection - Stan Chapman was a Dargaville resident, artefact and book collector. Later in life he lived at Onerahi, Whangarei. His Maori artefact collection was in part purchased, but the material he found himself was from the west coast of Northland between Maunganui Bluff and Kaipara Heads, from the before the time the dunes were stabilised. One contributing collection was that of George Hunter, first Mayor of Wellington. In 1959 the collection included over 300 greenstone items and nearly 500 adzes and chisels.

Mr Chapman was also an accomplished carver in the Maori style, having been trained by a noted carver Rongomai. Chapman's bookplate includes Maori designs and steel chisels - view.

Source: New Zealand Herald Jan 21 1959.
---
Collier Collection - A collection made by the Collier family largely around Dunedin in the 1920s. The collection is in family ownership.
Reference Harsant, W. 1986 The Collier collection: stone and bone artefacts from Otago. Archaeology in New Zealand 29(3):146-159.
---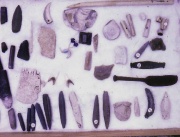 Duffy Collection - Ted Duffy lived in Paeroa and retired to Mount Maunganui. He worked for Railways and collected extensively on coastal sites from Waihi Beach to the eastern Coromandel, as well as elsewhere. The collection is mostly archaic material, including what looks like a bit of a rei puta, heaps of drillpoints, many adzes, moa bone fish hooks and tabs, needles, awls and others. It is an important assemblage.

Paeroa Museum holds about 600 items, which are currently on display, and Duffy's notebook, recording what was found where. Tauranga Museum has a further 50 pieces in storage and Auckland Museum has about 150. (Info. courtesy John Coster, Graham Watton and Antoine Coffin)


There is also a brief article about the collection.

Reference Maori Artefacts in the Paeora Museum. Ohinemuri Regional History Journal 42, September 1998
---
George Grey Collection - George Grey, twice governor of New Zealand and later premier donated significant founding collections to the Auckland City Library and Auckland Art Gallery. A less well known contribution was his ethnographic artefact collection donated to Auckland Museum. Wikipedia
---
Hamilton Collection - Augustus Hamilton was appointed director of the Colonial Museum in 1903 and at that time placed his ethnographic collection on deposit. The museum subsequently became Te Papa. Hamilton published a comprehensive account of Maori art, some of which was from his collection. Visitors to New Zealand's oldest surviving church, Christ Church in Russell, pass his well marked grave in the surrounding graveyard.
Hamilton A, 1896-1900, Art Workmanship of the Maori Race in New Zealand. New Zealand Institute, Wellington, in 5 parts.
---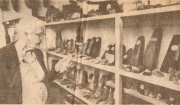 Harsant Collection - Horace Harsant ( -1974) resided at Hahei on the Coromandel on a property he farmed jointly with his brother. The collection of Maori artefacts originated from the area. In the 1950s it included mere, knives, fishhooks and adzes. A set of leg chains from HMS Buffalo were also in the collection. In 1977 the collection was reported as being bequeathed to the Hahaei community. It remains in the district.
His wife, Florence Harsant has an entry in the Dictionary of New Zealand Biography. Her autobiography (Harsant 1979:181) has a brief reference to the collection. Archaeologist Wendy Harsant is a descendant of Horace's brother Walter.
Sources: New Zealand Free Lance - cutting 1950s, New Zealand Herald December 23, 1977. Harsant, F. 1979 They call me Te Maari. Whitcoulls, Christchurch.
---
Keene Collection - Barry Keene had a private museum in Whangarei. The collection was sold at auction by Dunbar Sloane in Auckland in April 2010. It was described as originating "mainly from the upper North Island, Waikato, Hawkes Bay, Auckland etc".
The material featured bone needles, tattooing chisels, one and two piece fish hooks, many in shell, toggles, perforated teeth and pendants. There were few broken examples suggesting there had been strong selection of whole material at some stage in its collection. The following are drawn from the catalogue: Listing and pictures
---
---
Liggins Collection - Dr James B Liggins of Thames was one of the curio hunters who built their collection from the Oruarangi site. He dug there himself but also employed his son and contemporaries of his son to do the digging on a 'pay for finds' basis (Pers. com. from son to G Law, 1968). His collection in large part was purchased by Auckland Musum in 1945 and the remainder disbursed when sold at auction in 1971 [1].
References
↑

Furey, L 1996 Oruarangi: The archaeology and material culture of a Hauraki pa. Bulletin of the Auckland Institute and Museum No. 17.
---
Mair Collection - Gilbert Mair along with his father and brother was an important figure in colonial New Zealand and in the New Zealand wars. He accumulated many artefacts in the course of his contact with Maori, many from in the Bay of Plenty and particularly Rotorua. The collection is now largely in the Auckland Musuem. It is mainly ethnographic material but is of archaeological interest.
Tapsell, P. 2006 Ko Tawa, Maori treasures of New Zealand. Bateman, Auckland.
---
Murdoch Collection - Collected by Pat Murdoch from sites on the Hauraki Plains and on the Coromandel. The collection had a particular emphasis on the Hauraki Plains swamp pa.
Green and Green (1963) published a brief summary of the Hauraki Plains material in the collection. Law (1994) utilised part of the collection for a study of 2B adzes.
The collection is in family posession.
Green, R and Kaye Green 1963 Classic and Early European Maori Sites on the Hauraki Plains. New Zealand Archaeological Association Newsletter 6(1):27-34.
Law G, 1994 Adzes from Kopuarahi: the Potential for Subdivision of Type 2B Adzes. Archaeology in New Zealand 37:97-103.
---
Oldman Collection - In 1948, the New Zealand government purchased the Māori and Pacific collection of the London dealer W O Oldman. The collection was divided on indefinite loan among the four large New Zealand metropolitan museums (Auckland, the Dominion, Canterbury and Otago), with small amounts also going to smaller public museums. The Dominion Museum (now Te Papa) received the bulk of the Māori, Marquesan, New Caledonian, and Admiralty Island components of the collection together with small numbers of items from other island groups. Because these items had passed through various sale rooms in Britain, they often lack detailed information on their origins or historical context, but their quality is outstanding.
It is mainly ethnographic material but of considerable archaeological interest.
The collection was published as supplements in the Journal of the Polynesian Society (1936-44)(JPS online), then as two memoirs (1943, 1946) that have since been republished with new interpretive material by Neich and Davidson.
Oldman, W.O. 2004 The Oldman Collection of Maori Artifacts. New Edition with introductory essay by Roger Neich and Janet Davidson, and finder list. Journal of the Polynesian Society Memoir Series.
Oldman, W.O. 2004 The Oldman Collection of Polynesian Artifacts. New Edition with introductory essay by Roger Neich and Janet Davidson, and finder list. Journal of the Polynesian Society Memoir Series.
---
Pain Collection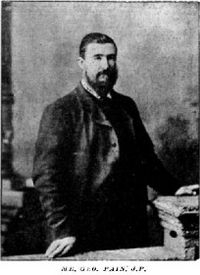 "Mr George Pain (senior) arrived in Wellington on the Oriental in January 1840. His son, also named George, was born in Wellington in 1846. George Pain junior is the owner of this collection. As a young man, he walked over the Rimutaka Hills and was employed as a shepherd for two years. He then started to sell goods from pack horses and could be described as a travelling salesman - thus the items in his collection came from Rotorua and Gisborne, as well as from the Wairarapa. He had a good knowledge of the land and was highly respected. He established the first general store in Martinborough, he was also a farmer, landowner and stockman. He was recognised as a good judge of horses. His homestead was named 'Okoroire' which can be translated as Oko: one who never sits still and Roire: the king of the road. He collected Maori weapons and Maori art/craft throughout his life. His travelling trade combined with a likeable and highly respected character help to explain how George Pain accumulated such a large collection of Maori artefacts. George Pain died in 1937." (Source)
His collection was given to the Wellington City Council in 1944 by Mary Pain of Martinborough. It is now housed in the Museum of Wellington City & Sea. They seem to render the name as Paine in some places. Some of the collection is of late 19th century pieces.
See also Cyclopedia of New Zealand
---
Kelly Tarlton Collection - Tarlton was an adventurer / entrepeneur focused on the marine world. His diving activities concentrated on shipwrecks. One outcome was the display of the material recovered in a private museum built within Tui, a beached former sugar lighter, at Paihia. It operated as a museum from 1970-2002. A key part of the collection was the Rothchild treasure recovered by Tarlton from the SS Tasmania wreck at Mahia in 1975. Rothchild was a jeweler. The Museum was robbed in 2000 by a notorious career criminal. The material taken valued at $300,000 included the Rothchild material and has never been recovered. The museum was sold in 2002 by Tarlton's widow and the collections dispersed by sale.
---
Okains Bay Museum / Thacker Collection - Partly an archaeological collection from Banks Peninsula but with ethographic material from a wider area. In the private Okains Bay Museum.
---
Wagener Collection - The collection resulted from the activities of Wilfred Wagener spanning colonial, farming technology and Maori material. Some of the material came to the collection via a collection of Northy Saunders. Important archaic Maori material was from the Houhora Archaic site. The collection was housed in a private museum at Houhora but an arson attack and tour coaches ceasing to visit left the museum unviable. The greater part of the museum was dispersed by sale held by Webbs auctioneers in Auckland in 2003. Some material sold was aquired by Auckland Museum. The local archaic material has been retained by the family who have hopes of reopening a small focused museum.
Anon, 2003. The Wagener Museum Sale (Catalogue), Peter Webb Galleries, Auckland.
---
Collections of the Whanganui Regional Museum - Horwood and Wilson (2008) detail a number of collections which contibuted to the museum:
Samuel H Drew Collection
John Ballance Collection
Pura Te Manihera McGregor Collection
Reverend Richard Taylor Collection
John Barnicoat Wall Memorial Collection
William E Goffe Collection
James H Burnet Collection
Michelle Horwood and Che Wilson 2008 Te Ara Tapu Sacred Journeys - Whanganui Regional Museum Taonga Maori Collection. Random House and the Whanganui Regional Museum, Auckland.
---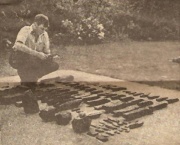 Willetts Collection - A fabulous collection of Archaic material mostly from Waitaki River mouth which was for a period at Otago Museum but is now the pride of the North Otago Museum. When the farm property the Kaik was owned by J B Chapman a few finds had been made and the site had been dug by David Teviotdale and H S McCully. However it was plouging by the subsequent owner Mr Stewart Willetts that brought the material collected to the surface. His son Mr Allan Willetts made most of the collection. By 1953 the collection included 50 adzes which had mostly been found in sets of up to six. Grindstones, flake knives and fishing gear were included in the collection.
Sources:
Otago Daily Times Monday, Feb 23, 1953, article by G B S.
The Willetts' Collection, North Otago Museum brochure, obtained 2012.
---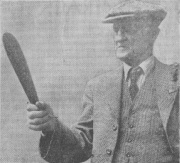 Vangioni Collection - Louis Vangioni was a New Zealand born collector. He and earlier his Italian born father Joseph operated a general store and cocksfoot grass seed wholesaling business at Akaroa. The store is still in existence More.

Vangioni started collecting as a boy exploring sandhills and caves of Banks Peninsula and undertaking excavations. He catalogued his collection and by 1951 it contained about 6000 items. It included mere, tiki and many fishhooks, in human bone, whale bone and wood. Flutes, tatooing chisels and combs also featured. He was 78 in 1951 and died in that year.

His knowledge of the Maori place names of Akaroa was recorded by D J C Pringle and was published in 1967, reprinted in 1970. Old Maori Place Names Round Akaroa Harbour. Akaroa Mail. On line.

Mould (n.d.:71) has a vignette about Vangioni and his collection. Mould, J, n.d. (1976) More Tales of Banks Peninsula, Privately published.

Source: The Weekly News, Wed Feb 7, 1951. Article by Neil Robinson.
---