Pilkington Scott
From Archaeopedia
Scott Pilkington
Education administrator and cultural heritage researcher.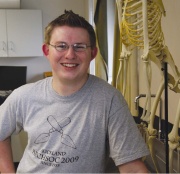 Interests
Scott is currently one a handful of people to have ever written anything on the Albert Park Tunnels
Also rings church bells and was the handbells conductor at Saint Matthews-in-the-city
Also interested in the history of science, particularly natural history and natural philosophy in the 19th and early 20th centuries.
Also interested in historic archaeology, bioarchaeology, and palaeoreconstructions.
Scott was awarded a Summer Studentship (2009/2010) by the Research Centre for Surface Material Science (RCSMS), Faculty of Engineering, University of Auckland to test surface morphology techniques using anthropological data as a model.
Recent Publications
Dissertations:
Unpublished reports:
Journal articles:
Public presentation:
Pilkington, Scott. 2008. Shelter from the Rising Sun – a history of the air raid shelter tunnels under Albert Park. Paper presented to the West Auckland Historical Society, October 2008
Works in Progress
Applications of surface morphology analysis in anthropological and archaeological research
The 'Terror' and Auckland 1890-1945
Modern ecological practices and palaeoecological evidence : a comparison
Developing a protocol for the taphonomy of burnt human skeletal remains
A history of ornithological publications in New Zealand 1859-1900
Education Qualifications
BA - history and anthropology - University of Auckland
BA(Hons) - anthropology - University of Auckland
PGDipArts - museums and cultural heritage - University of Auckland
DipILS - archives management - Open Polytechnic of New Zealand
Pages contributed to