One Tree Hill
From Archaeopedia
One Tree Hill - (Maungakiekie)
---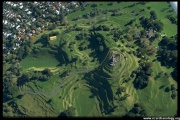 Maungakiekie is the largest pa in the Auckland volcanic field. It has an excellent visitor center (on the north side of the cone) which explains the Maori history of the site and presents digital reconstruction images and archaeological finds from the cone and the area. The digital information was prepared by Geometria. Cornwall Park covers some of the cone. The balance of the site is in One Tree Hill Domain.
Archaeologists with an involvement with the cone include Aileen Fox and Geoff Fairfield
The best published source for the cone is Fox, A. 1978 Maungakiekie. The Maori Pa on One Tree Hill. One Tree Hill Borough Council, Auckland. It is out of print but viewable at the visitor centre and no doubt libraries in the region.
There is an archaeological trail brochure available at the visitor centre.
There are guided tours of the archaeology held several times a year. See this Cornwall Park pagefor times and dates.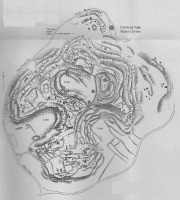 Video Flyover
Borrowed from Wiri DjWizNZ
---
Media
The U2 song One Tree Hill refers to this cone:
Only scars carved into stone on the face of earth
The moon is up and over One Tree Hill
- from the 1987 album, The Joshua Tree. The song was written to commemorate a Kiwi roadie killed in a motor accident.
---
External Links
Cornwall Park site history page
Auckland Council Page on Maungakikie.