Okaihau Railway Tunnel - Visit
From Archaeopedia
Okaihau Railway Tunnel
Location:
SITE TO VISIT
Okaihau Railway Tunnel
-
Ethnicity:
European
Site type:
Railway Heritage
Where:
Okaihau, inland Bay of Islands
How to get there:
Under the main road into Okaihau - within Two Punga Park.
How Long to allow:
15 minutes
Disclaimer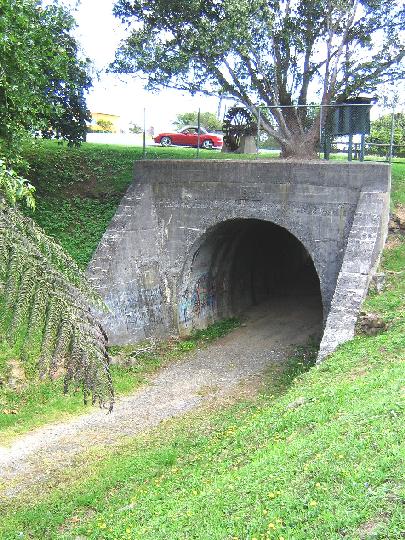 What:
Railway tunnel of 1926 on an abandoned line, now part of a cycleway. The tunnel is short so no lighting is needed to visit.
Okaihau was the northern end of New Zealand railways from 1923 to 1987. The rail was intended to extend to Kaitaia but only short-lived attempts were made to complete it. The railway station was on the north side of the tunnel.
Web Info:
http://www.kaikohe.co.nz/Cycleway_Project.cfm?NewsID=40&NewsCatID=5&disp=detail
What else to do there:
The Waimate North Mission (NZHPT) is not far away.