NZAA Site Recording Handbook
From Archaeopedia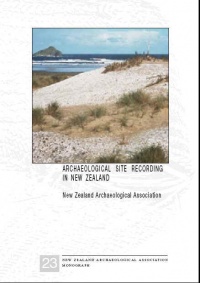 Walton, Tony (Ed). 2007. Monograph 23: Archaeological Site Recording in New Zealand
. Electronic version of the 1999 edition.
NZAA Handbook provides guidelines to archaeologists recording sites. It is no longer in print but can be downloaded in PDF format from the link above.
Contributors
Edited by Tony Walton
Individual chapters contributed by:
Other material contributed by:
Originally published 1999.
Electronic copy without amendment issued 2007.
ISBN: 978-0-478-14164-1
All rights reserved.
---