NZAA
From Archaeopedia
New Zealand Archaeological Association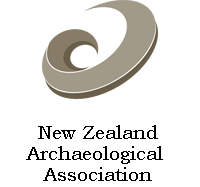 The Association has a broad membership of professionals, other interested people and institutions. Its members have interests in historic and prehistoric archaeology in New Zealand and in the Pacific.
Its principal functions are:
While supporting professional and ethical standards it is not an association of professionals operating just for that purpose. It does not accredit its members as meeting professional standards.
Visit the Association website here: New Zealand Archaeological Association
Past office-holders of the Association were listed in a 2005 edition of Archaeology in New Zealand 48(1):9-18. Past editors of Archaeology in New Zealand are listed here.
Current office holders and contact information are listed on the Association website.
A weekly emailed news-sheet is produced - Subscribe to the eNews here.

Join the New Zealand Archaeological Association Facebook Group