McFadgen Bruce
From Archaeopedia
Bruce Gordon McFadgen (1943- )
Bruce McFadgen has been an archaeologist in New Zealand for over 45 years. He has more than 70 refereed publications, including monographs and book chapters. His most notable contribution is Hostile Shores, a book about the impact of tectonic events on cultural change.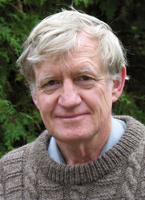 Career
Before becoming an archaeologist, Bruce McFadgen's early career was as a surveyor, working for the Department of Lands and Survey from 1961 to 1968, including studying surveying at Otago University in 1964 and 1965. An intense interest in archaeology led to a career change, and he returned to Otago University in 1968 to complete a BA and MA in Anthropology. The topic of his master's thesis was palaeoenvironmental studies of the Manawatu sand plain[1].
His PhD [2] is in Geology, from Victoria University of Wellington, with research over the period 1972-1977 that followed Harold Wellman's pioneering work on coastal sedimentology and its historical interpretation. The results of this work have been published[3].
Bruce was employed by the NZ Historic Places Trust as a Staff Archaeologist from 1977 until 1987, and by the Department of Conservation from 1987 until 2003. In 2003 he took early retirement to take up the JD Stout Fellowship at Victoria University, to research and write Hostile Shores, which was published by Auckland University in 2007.
Bruce has undertaken field work widely in New Zealand, with particular emphasis on the central New Zealand, especially the southern North Island, the Chatham Islands and the western Bay of Plenty.
He has made material contributions in a number of areas, including radiometric dating e.g. [4], [5], recent tephras and their utilisation in archaeology[6], horticultural (plaggen) soils and other soils modified by human activity e.g. [7], coastal processes in relation to archaeological sites e.g. [8], and in particular interpretations of sediments in relation to past tsunami events and the potential effect these events had on past Maori populations e.g.[9].
His principal archaeological investigations have been the Foxton archaic site and Ruahihi Pa[10].
Bruce has produced two regional archaeology syntheses in the Department of Conservation series[11],[12].
A major achievement while with the Department of Conservation was the coordination and production of an on-line Radiocarbon database for New Zealand [13].
Bruce has never been shy of controversy. A material contribution was to tackle the anomalous Poukawa swamp site where he conclusively demonstrated the cultural material found there below the Taupo tephra was intrusive [14]. Hence the site is not evidence for occupation a thousand years earlier than more conventional views of New Zealand history. Bruce has presented different interpretations of sites with stone structures around the southern coast of the North Island [15]. With Goff he has rebutted claims that a bolide impact occurred south of New Zealand within the time of human history[16].
Some reviewers see his interpretation of the effect that 15th century tsunami had on Maori history as being closer to determinism than they are comfortable with (e.g.[17], [18]).
A close professional association has been with geologist James Goff currently Professor of Tsunami Studies at UNSW Sydney. Bruce has worked with James for more than 10 years on a variety of projects on the New Zealand mainland and on off-shore islands, and most recently on D'Urville Island.
Bruce is currently a Research Associate with the School of Maori Studies at Victoria University, Wellington[19] which involves lecturing, research, and field trips with students. In addition to this he undertakes work as an archaeological consultant across prehistoric and historic archaeology, often in association with other consulting archaeologists. He is currently working in collaboration with Dr Eric Force, Department of Geosciences, University of Arizona, on archaeoseismology and its role in the development of civilisation [20].
Awards and Credits
Bruce received the ILFORD award for Aerial Archaeology in 1982. He was President of the Wellington Branch of the Royal Society of New Zealand (1985-1987), and of the New Zealand Archaeological Association (1986-1988). He serves as NZAA representative on the Skinner Research Fund Committee (1987 – to present). From 2001 to 2004 he was on the Advisory Board for the National Isotope Centre. He has been a member of the NZ Institute of Surveyors for more than 40 years, and has edited the New Zealand Surveyor, the Journal of the NZ Institute of Surveyors, since 2007.
Stout Fellowship
The Stout fellowship [21] was established by the John David Stout Trust in order to sponsor research projects into the society of New Zealand, and is an independent grant to well published and recognized scholars to research for a full twelve months at Victoria University. In 2003, he received the JD Stout fellowship, a 12 month appointment, for his research on tectonics and the Maori people. It was during this time that he researched and began his book Hostile Shores: Catastrophic Events in Prehistoric New Zealand and their Impact on Maori Coastal Communities. It references many studies, from archaeology to the oral storytelling tradition of the Maori, and focuses on not only early tectonic and volcanic activity in New Zealand but also a series of 15th century tsunamis and their effect on the early populations. Other papers resulted from the period[22].
Hostile Shores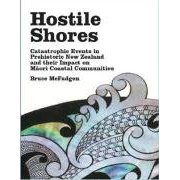 Hostile Shores was published by Auckland University Press in 2007. It covers the period between the colonisation of New Zealand by Polynesians through to the 18th century arrival of Europeans. The "big crunch" of 15th Century tsunamis is the focus of his study. The coastal communities of the Maori people were shaped and affected not only physically but socially by natural and man-made events. Bruce incorporates not only his knowledge of tectonics and volcanology but his specialties in radiocarbon dating, especially by correlating the samples of dating to various societies and the natural events that correspond with them. In this way he establishes the timeline of the given situation. He compares it to modern tectonic activity and its effect on modern cultures, and contrasts North and South Island coasts of the island. He identifies the catastrophic events as causes for loss of food sources and the need for migration of certain communities away from the coast to more stable ground.
References