Maungarei Stonefields - Visit
From Archaeopedia
Maungarei Stonefields
Location:
SITE TO VISIT
Maungarei Stonefields
-
Ethnicity:
Maori
Site type:
Garden
Where:
Northwest of Mt Wellington / Maungarei. Reserve off Tidey Road
How to get there:
30 minutes from central Auckland
How Long to allow:
30 minutes at the site.
Disclaimer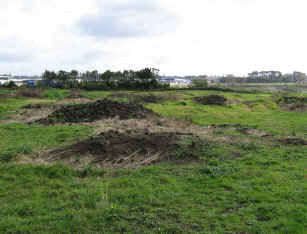 What:
Newly created reserve with a remnant of the formerly extensive stonefields gardens that once surrounded Mt Wellington volcanic cone. The adjacent suburb Stonefields is named on recognition of this.
The stonefields result from Maori gardening activity and small occupation sites associated with the garden areas. Garden areas were created by being cleared of volcanic stone, into heaps and rows and the gardening took place within them. Some argue that the heaps themselves were also used for growing some crops, such as gourd. Some of the rows certainly form plot boundaries.
Web Info: