Lockerbie Les
From Archaeopedia
Leslie (Les) Lockerbie - 1996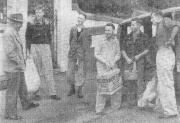 Les was employed at
Otago Museum
as its education officer. His period of service was from 1947 until retirement in 1976.
His earlier career was as a teacher. In the late 1930s he was involved in publishing a number of books for schools, With two: Deeds of daring in New Zealand and The games of Ao-tea-roa he was the primary author and in a further three books of plays he contributed illustrations and staging notes. One of the books, published by Reeds, was printed by the Caxton Press, one of Denis Glover's first outputs, with type set by Bob Lowry.
While resident at McLennan he came across material eroding from the Papatowai site and he assisted Teviotdale in exavating the site in 1936[1].
Through the influence of the Otago Museum director Skinner and his own reading he became the pioneer of stratigraphic excavation in New Zealand. The work he undertook on sites in southern New Zealand appeared largely in the Journal of the Polynesian Society. He was an early user of radiocarbon dating and assisted the DSIR in establishing local standards for marine sourced samples.
He was a founder member of the New Zealand Archaeological Association and was President in 1961.
In 1960 he was instrumental with Peter Gathercole in founding the Otago Anthropological Society (Williams and Jennings 2007).
In retirement he indulged his hobby of gold fossicking but continued to assist the DSIR on its Radiocarbon Committee assessing material submitted for dating. He died aged 84.
References
Buick, Thomas Lindsay 1937 The Moa-Hunters of New Zealand: Sportsman of the Stone Age. Thomas Avery and Sons Limited, 1937.
Williams, Erin and Chris Jennings 2007 History of the Otago Anthropological Society Origin 1:37-39.
N Prickett 1996 Archaeology in New Zealand 39(3):160-161.
R Scarlett 1996 Archaeology in New Zealand 39(4):309.
---
Bibiliography
1940 Excavations at Kings Rock, Otago, With a Discussion of the Fish-Hook Barb as an Ancient Feature of Polynesian Culture, Journal of the Polynesian Society 49:393-446.
1950 Dating the Moa-Hunter, Journal of the Polynesian Society 59:78-82.
1953 Further Excavation of the Moa-Hunter Site at the Mouth of the Tahakopa River, Journal of the Polynesian Society 62:13-32.
1954 Stratification in Otago Archaeological Sites, Journal of the Polynesian Society 63:141-46[12].
1959 From Moa Hunter to Classic Maori in Southern New Zealand. In Anthropology in the South Seas. Ed. Freeman, J. D. & Geddes, W. R. Thomas Avery & Sons Ltd., New Plymouth, N.Z. 75-110.
1972 Rafter, T A, Jansen, H S, Lockerbie, L, and Trotter, M M, New Zealand Radiocarbon Reference Standards. In T. A. Rafter, and T. Grant-Taylor (Eds): Proceedings of the 8th International Conference on Radiocarbon Dating. Royal Society of N.Z., Wellington.