Law Garry
From Archaeopedia
Garry Law 1945 -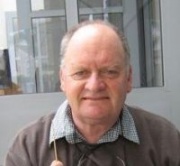 Past webmaster of the New Zealand Archaeological Association website: nzarchaeology.org and compiler of the NZAA eNews.
An occasionaly updated personal page is Garry Law's New Zealand Archaeology Page
Garry's professional training and career has been as a civil engineer.
---
Papers on-line
2008: Auckland, August 1908: A Stop on the Great White Fleet World Cruise. 37 pp Maruiwi Press. ISBN 978-0-473-13645-1 On line
2008: Archaeology of the Bay of Plenty . Department of Conservation SCIENCE FOR CONSERVATION series. ISBN 978-0-478-14429-1 On line.
2008: Abundance and Constraint: A Short History of Water Use in New Zealand. 61 pp Maruiwi Press. ISBN 978-0-473-13754-0 On line
2007: Miranda Law and Garry Law (Eds) Recollections of a Voyage to South Australia and New Zealand Commenced in 1838. William Porter. Recorded at Huntly 1907 Maruiwi Press. ISBN 0-476-01579-0 Version on line
2005: Warren Gumbley, Dilys Johns, and Garry Law Management of wetland archaeological sites in New Zealand. Department of Conservation SCIENCE FOR CONSERVATION 246 On line
There are more papers available at academia.edu
---