Hosking Trevor
From Archaeopedia
Trevor Hosking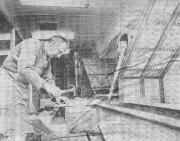 Trevor Hosking's career has included research and rescue archaeology, historic building and site restoration and conservation. Sites he has worked on include the Armed Constabulary Hall, burial caves on Motutaiko Island, Rauhoata Cave, the Napier/Taupo Armed Constabulary Redoubts, Te Porere Redoubt, Tarawera rock drawings and the Opepe Canoe.
He was awarded a QSM in the Queen's Birthday honours, 2009 for services to the conservation of historic places[1].
His biography is: A Museum Underfoot, The Life of Trevor Hosking. Alison Harrington, 2007, Friends of the Lake Taupo Museum and Art Gallery, Taupo.

Much of Trevor's work on the Tongariro power scheme in published in Newman, M. 1988 Archaeological Investigations in the vicinity of Lake Rotoaira and the lower Tongariro River 1966–71. New Zealand Historical Places Trust Publication 21.
References'
↑ Trevor Hosking, Investitures - Wednesday 16 September 2009, Governor General of NZ http://www.gg.govt.nz/node/2070 Accessed November 2010.