Fox Aileen
From Archaeopedia
Lady Aileen Fox 1907-2005
Active in New Zealand 1973-1983.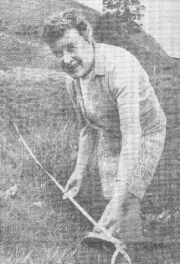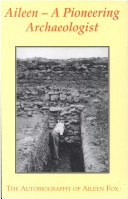 See her autobiography Aileen, a pioneering archaeologist, The autobiography of Aileen Fox, 2000, Gracewing.
Now available on-line Link
From the "blurb"
Aileen Fox's memoirs may well be the last of the accounts we shall have of the great pre-war generation of archaeologists - Mortimer Wheeler, Stuart Piggot, Grahame Clark and others, together with Cyril and Aileen Fox. In this fascinating account, Aileen Fox charts her life, from early childhood in the golden world of the affluent before the First World War, to a young woman's struggle to be allowed university education in 1920s Britain. Working on important Bronze Age, Iron Age and Roman sites, she gives vivid accounts of her years of fieldwork and academic life in Wales and southern England - and especially of her work in Exeter. Later, at a time most people are retiring, Aileen began a new career in New Zealand. In 1933 Aileen married Dr Cyril Fox, the Director of the National Museum of Wales (subsequently to be knighted for his services to archaeology and to the Museum). Combining family life with her own developing career in archaeology, Aileen acted as Lecturer in Archaeology at University College, Cardiff during the Second World War before being asked in 1945 to undertake trial excavations in the historic centre of the City of Exeter, devastated by wartime bombing. This started what was to become a lifetime involvement with the City and with Exeter University. Aileen Fox has made a particular contribution to British archaeology by generating an enthusiasm for local archaeology amongst a wider public through her many books and tireless work with local groups.

Mary Jeal, Mad dogs and Englishmen, Archaeological site recording with Aileen Fox, in: A lot of spadework to be done, Essays in honour of Lady Aileen Fox, by her New Zealand friends, 1983, Eds. S E Bulmer, R G Law and D G Sutton, New Zealand Archaeological Association Monograph No. 14, gives a personal account of her work.
Janet Davidson contributed an obituary to Archaeology in New Zealand,(2006) 49(3):7-10.
Society of Antiquaries obituary.
Independent obituary.
See entry on Wikipedia.
---
Major excavation reports in New Zealand include:
Fox, A, 1978. Tiromoana Pa, Te Awanga, Hawkes Bay. Excavations 1974-75. Otago University Studies in Prehistoric Anthropology 11 and N.Z.A.A. Monograph 8.
Fox, A, Green, R C. 1982. Excavations at Maioro, N51/5, South Auckland, 1965-66. Rec. Auckland Inst. Mus (17 Dec 1982), v.19: pp.53-80. Auckland
Fox, A, Cassels, R J S. 1983. Excavations at Aotea, Waikato, 1972-75. Rec. Auckland Inst. Mus. v.20: pp.65-106.

Other publications:
Fox, A., 1974a. Tiromoana Pa, Te Awanga, Hawkes Bay, Interim Report. N.Z.A.A. Newsletter 17(4):163-170.
Fox, A., 1974b. The Pa, N43/59, at Pawhetau Point, Kawakawa Bay, Clevdon, South Auckland. Records of the Auckland Institute and Museum 11:15-22.
Fox, Aileen 1974c Prehistoric Maori Storage Pits: Problems in Interpretation. Journal of the Polynesian Society 83(2):141-154.
Fox, A., 1976a. Tiromoana Pa, N135/1, Te Awanga, Hawkes Bay. Second Interim Report, 1975. N.Z.A.A. Newsletter 19(1):27-29.
Fox Aileen 1976b. Prehistoric Maori Fortifications in the North Island of New Zealand. Auckland. Longman Paul. Monograph No. 6 of the New Zealand Archaeological Association.
Fox, A., 1977. Pa of the Auckland Isthmus: An Archaeological Analysis. Records of the Auckland Institute and Museum 14:1-24.
Fox, A., 1978. Maungakiekie. The Maori Pa on One Tree Hill. One Tree Hill Borough Council, Auckland.
Fox, A., 1980a. The Pa on Mount Roskill, Auckland (N42/11): Dating Evidence from the 1961 Excavations. Records of the Auckland Institute and Museum 16:45-61.
Fox, A. 1980b. A New Look at Maori Carved Burial Chests, Antiquity Cambridge 54:7-14.
Fox, A. 1983. Carved Maori Burial Chests: A Commentary and a Catalogue. Auckland Institute and Museum Bulletin 13.
---