Duff Roger
From Archaeopedia
Roger Duff 1912-1978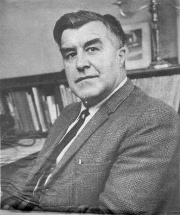 This page is a Stub
Further content needs to be added. For changes please drop a note to the webmaster.
For many years director of Canterbury Museum. See Janet Davidson's article in the Dictionary of New Zealand Biography. DNZB
A more personal reminiscence is that of his sons: Duff, Gowan and Robin Duff, 2004: Roger Duff: Anthropologist, Educationalist, Archaeologist. Digging Into History, Archaeology in New Zealand 47(4):86-90.
Ron Scarlett contributed an obituary to the NZAA Newsletter. Scarlett, R J 1979: Roger Shepherd Duff: an appreciation and tribute. New Zealand Archaeological Association Newsletter 22(2):47.
Writer Alan Duff is a nephew who lived with Duff for a period.
---