Duck Creek Dams - Visit
From Archaeopedia
Duck Creek Dams
Location:
SITE TO VISIT
Duck Creek Dams
-
Ethnicity:
European
Site type:
Industrial
Where:
North Shore 20 minutes from the city centre.
How to get there:
Bus (Check Rideline) or taxi. Turn down Colonial Road to Chelsea Sugar Refinery from Mokoia Rd, Highbury.
How Long to allow:
1 hr.
Disclaimer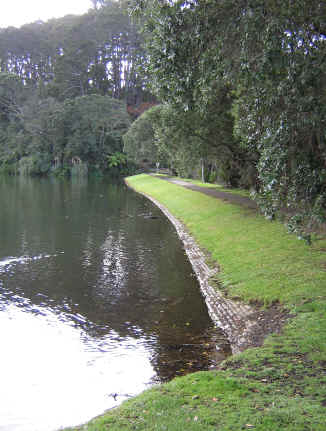 What:
Earth dams on Duck Creek built to supply an adjacent sugar works which is still operating, but not using the dams. The lower dam is brick faced internally, and basalt faced on the sea side. Now in a park.
Web Info:
http://www.chelsea.co.nz/net/sugar-history/default.aspx
http://www.historic.org.nz/TheRegister/RegisterSearch/RegisterResults.aspx?RID=7792