Delph L W
From Archaeopedia
Leonard William (Bill) Delph 1892 - 1974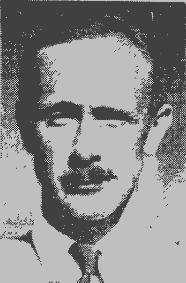 Bill Delph was born in Cambridge, England. A Cambridge graduate in science and WW 1 veteran, Bill lived for a period in Canada after the first World War, studying forest botany at University of Toronto at post-graduate level and also teaching at Upper Canada College.
His war service was initialy with the Canadian Engineers and then under a commission in the Royal Engineers Signals[1]. After service in France he was in the Middle East with the Australian Mounted Division, including serving at the Battle of Beersheba where he won the Military Cross.
Bill's later career included a period as a science teacher at Kings College Auckland (1923-32) and later after a break from teaching, at New Plymouth Boys High School. He was an officer in the Home Guard in the second World War.
He and his wife, painter Birtchnell Delph ran Parnell House at Kings for nearly seven years. Later after the Second World War he was a visiting agriculture teacher at Northland schools .
He was a regular contributor the Weekly News and the New Zealand Herald on conservation matters and was for a period on the staff of the Herald between Kings College and New Plymouth.
He published a few papers on archaeology but perhaps his greater contribution to science was being one of the inspirations for pupil Charles Fleming'scareer[2].
Reference
↑ Evening Post, Volume CXXX, Issue 96, 19 October 1940, Page 7 http://paperspast.natlib.govt.nz/cgi-bin/paperspast?a=d&cl=search&d=EP19401019.2.17&srpos=8&e=01--1920-01-01-1945--10--1----2delph--
↑ Fleming C, 2008 Shell Collecting in the 1920s. pp144-149 in R Priestley Ed.(Anthology) The Awa Book of New Zealand Science, Awa Press, Wellington.
---
Bibiliography
- 1939 Cave Drawings Near Tongaporutu, Taranaki. Journal of the Polynesian Society, 48(2):116-21.
- and G Archey 1930 The Piraunui Pa at Matawhana, Waikato. Records of the Auckland Museum 1(1):57-69.