Best Elsdon
From Archaeopedia
Elsdon Best 1856-1931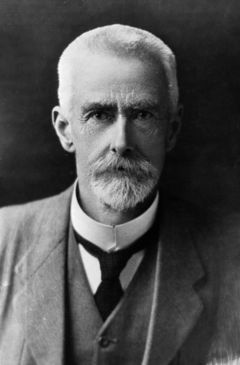 Best's direct contributions to archaeology included studies of pa, shell middens and artefacts.

Best was a self-educated ethnographer and scholar, a founding member of the Polynesian Society and a prolific author. His early career included a period of residence in the United States and periods as a member of the armed constabulary, a civil servant, a timber worker and saw mill owner. His major fieldwork in the Ureweras was while under the patronage of Surveyor General Percy Smith, working in various official capacities.
Best's works show him as well read in historical accounts of Maori and his works are often a place to start in exploring particular aspects of Maori. His Urewera work appears most directly in Tuhoe the Children of the Mist[1] but underlies a lot of his other publications as well.
Holman[2] gives a detailed account of his intellectual background and of his relationship with individuals in Tuhoe who collaborated in the research. A shorter account by Holman is here. Holman is essential reading for anyone intending to cite Best as a source.
Jeffrey Sissons has an article on Best in the Dictionary of New Zealand Biography. DNZB
Craig 1964
[3]
, is a biography.

Selected Bibliography
The following are of particular archaeological interest.
1912 The Stone Implements of the Maori. Dominion Museum Bulletin No.4. Wellington.
1916 Maori storehouses and kindred structures Dominion Museum Bulletin No.5, Wellington.
1918a Shell-middens of the Wellington District. New Zealand Journal of Science and Technology 1:84-90.
1918b Shell-middens of the Porirua District. New Zealand Journal of Science and Technology 1:212-217
1925 Maori Agriculture. Dominion Museum Bulletin No. 9, Wellington.
1927 The Pa Maori. Dominion Museum Bulletin No.6, Wellington.
1929 Fishing methods and devices of the Maori. Dominion Museum Bulletin No.12, Wellington.

References
↑

Best, E 1925 Tuhoe: the Children of the Mist (2 volumes). New Plymouth: Thomas Avery and Sons.

↑

Holman, J P 2010 Best of Both Worlds, The Story of Elsdon Best and Tutakangahau. Pengin Books, Auckland.

↑

Craig, E W G, 1964, Man of the mist. a biography of Elsdon Best, A H and A W Reed, Wellington.