Auckland Museum
From Archaeopedia
Auckland Museum
MUSEUM
Auckland War Memorial Museum
Location:
Auckland Domain
Nearest Place:
Auckland City centre
Established:
1852
Visitors:
700,000 per annum
Governing Body:
Museum Council, shared appointments between Auckland Council and the Auckland Museum Insitute.
More properly Auckland War Memorial Museum. The museum has a superb collection of Maori and Pacific Island objects, as well as being a museum of wars New Zealand has been involved in, a natural history and fine arts museum.
Archaeologists who have been on the staff of the Museum include David Simmons, Janet Davidson, Aileen Fox, Kathy Prickett and Nigel Prickett.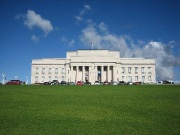 Recently redeveloped on site it exemplifies fine architecture and the traditional object oriented strengths of museums. Live Maori cultural performances are a feature.
The Records of the Museum have been a major outlet for scholarly publications on archaeology and ethnology for Auckland, New Zealand and the Pacific, particularly on the Auckland region and the collections of the Museum. It is a repository for excavated material from archaeological sites.