Aerial Photography
From Archaeopedia
Aerial Photography in New Zealand Archaeology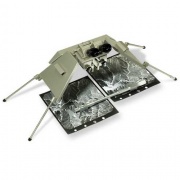 Aerial photography has been used for archaeological purposes in New Zealand for site discovery, site level research and illustration.
An early pioneer was Geoff Fairfield [1]. Kevin Jones has published on the history of the use of aerial photography in New Zealand archaeology. [2]
Much of the early photographic coverage of New Zealand was by high altitude vertical photography which is of relatively limited use though often it will show sites such as pa. The early photography can be valuable in showing sites which no longer exist.
Local aerial photography pioneer Piet Van Asch [3](See DNZB article) took a particular interest in archaeology through aerial photography and cooperated with J D H Buchanan in photographing pa, which appeared in Buchanan's book on Hawkes Bay [4].
During the 1970s and 80s, the Auckland and Rotorua Conservancies of the New Zealand Forest Service developed an increasingly sophisticated vertical aerial photography capability, primarily for forest management mapping purposes, but also turned to the recording and management of archaeological sites [5] [6].
Kevin Jones is the principal practitioner of aerial photography in New Zealand, initialy undertaken during his time in the Department of Conservation but continuing since. His photography is characteristicaly low altitude obliques. Examples can be seen on the NZAA website See here. He has also published a compehensive survey of archaeological aerial views [7]
Google earth and Google maps show many Maori and historic sites. NZAA has a page with a few Google earth linked sites here.
References